Edgar Degas and the stories we tell ourselves, at the opera and everywhere else.
The opera is an ideal place to be distraught. You're surrounded by characters who are on the brink of emotional collapse, performing some exaggerated version of a familiar feeling: it gives perspective. It's also an ideal place to dupe yourself, to tell yourself stories about who you are. You can go alone, sip your drink elegantly at intermission, as if waiting for someone just out of sight.
Edgar Degas was particularly in his element at the opera house. In 1875, Charles Garnier designed what might still be Paris's most beautiful building, the Opéra Garnier. It was a place of cultural but also social and political power, set at a major crossroads of Baron Haussmann's Second Empire boulevards. In the mid-nineteenth century, opera was embraced as a focal point for the burgeoning movements of realism, Romanticism, and Orientalism, and was viewed as the ultimate art form—a place to work out human potential and ambition: as heroes and villains, as cultures and nations, the grandest of stories. But as the Garnier was going up, opera's sociocultural power was going down. France didn't have a great singer and the dancers were just okay. Perhaps the Garnier's beauty wasn't fair to the performers: they had such rarefied surroundings, how could they ever live up to them? Degas preferred Paris's old opera house, the one on the rue Le Peltier that burned down in 1873. The Garnier, he found, was too overwhelming.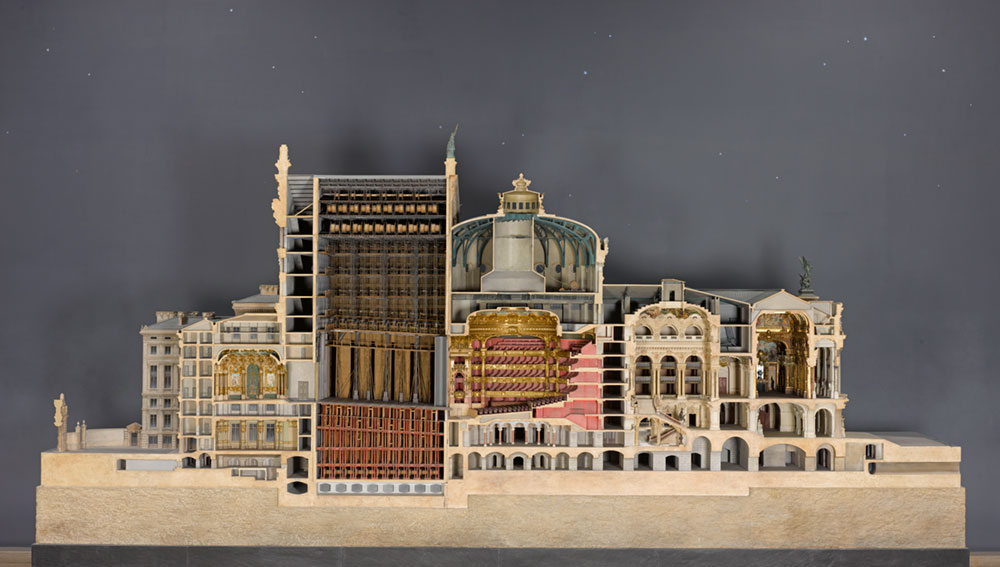 "Degas at the Opera," on at the Musée d'Orsay until January 19, includes dozens of his behind-the-stage scenes and explores the way in which the Paris opera was the Studio 54 of its day, the place to see and be seen and, crucially, to catch people at their most charismatic in the audience and at their most honest backstage, where the public wasn't watching. Behind the curtain a number of stories transpired, and Degas, throughout his life, was the ultimate voyeur. He preferred the wily characters, the creepy men who held their top hats steady as they walked about the foyer de la danse, allowed to share space with the dancers backstage so long as they attended the opera three days a week. Technically, they weren't allowed to touch, but invariably they did. In 1882, Degas wrote to his friend Albert Hecht, a known art collector, asking for a day pass to the opera's backstage; eventually, he would subscribe himself. He began coming all the time, even when shows were not on. "He comes here in the morning," a friend noted. "He watches all the exercises in which the movements are analyzed, and … nothing in the most complicated step escapes his gaze." He was obsessed with the women of the opera, but according to his friends and by his own admission, he was celibate. Manet spun it differently: "Incapable of loving a woman or even telling her he does." Or Van Gogh: "Degas lives like some petty lawyer and doesn't like women, knowing very well that if he did like them and bedded them frequently, he'd go to seed and be in no position to paint any longer. The very reason Degas' painting is virile and impersonal is that … he observes human animals who are stronger than himself screwing and fucking away and he paints them so well for the very reason he isn't all that keen on it himself." Degas only watched the stories unfold; he did not partake. And it was only by not taking part that he gained such a complex grasp. He recognized the artifice of the opera and of life—the business of the backstage, how the stories being told in front of the curtain were not the same as the stories happening behind it.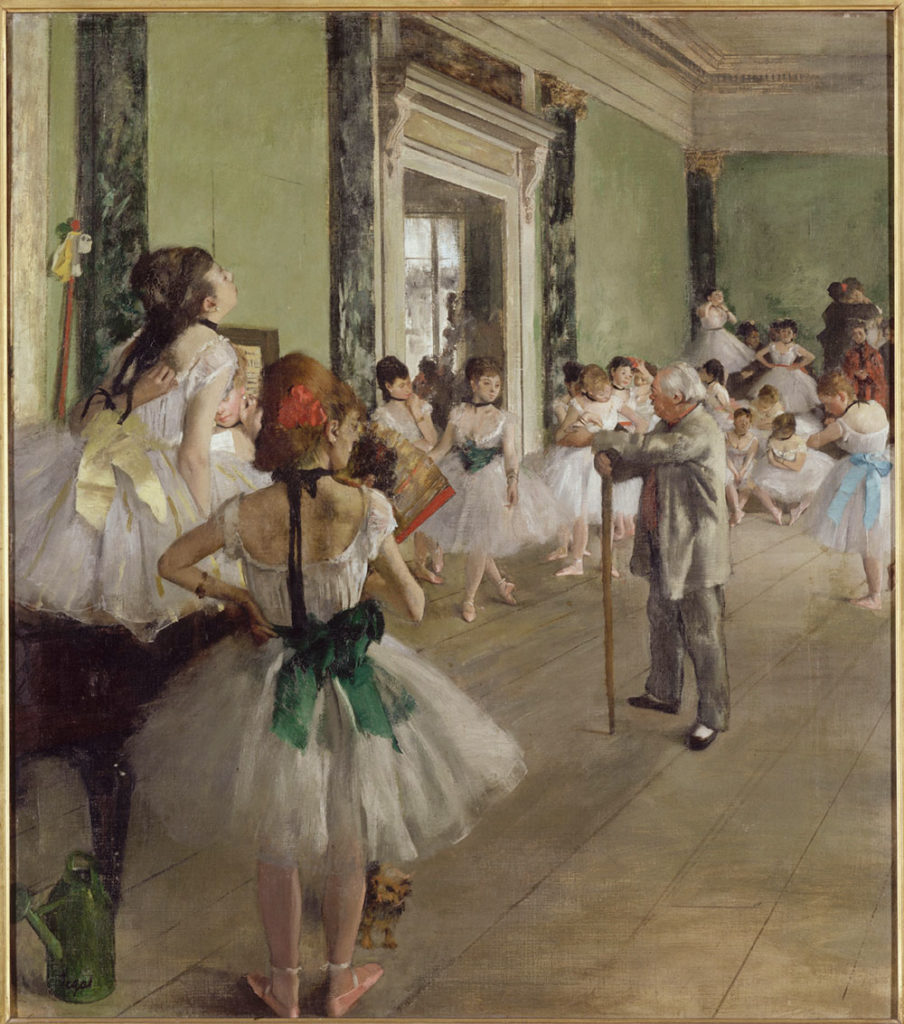 Mostly, the stories were of class. The men chasing the dancers around were of a higher social stratum—the age-old trade of wealth and status for beauty and youth. The dancers were almost exclusively from the lowest classes, and the glamour bestowed upon them by the opera was just enough to make them desirable as mistresses or even as wives. Degas did not like this. Having come from a wealthy family (he never had to work for money; his father a banker, his mother an heiress of a New Orleans cotton fortune), Degas advocated a rigid class structure: the ballerinas should be nowhere near lawyers and diplomats.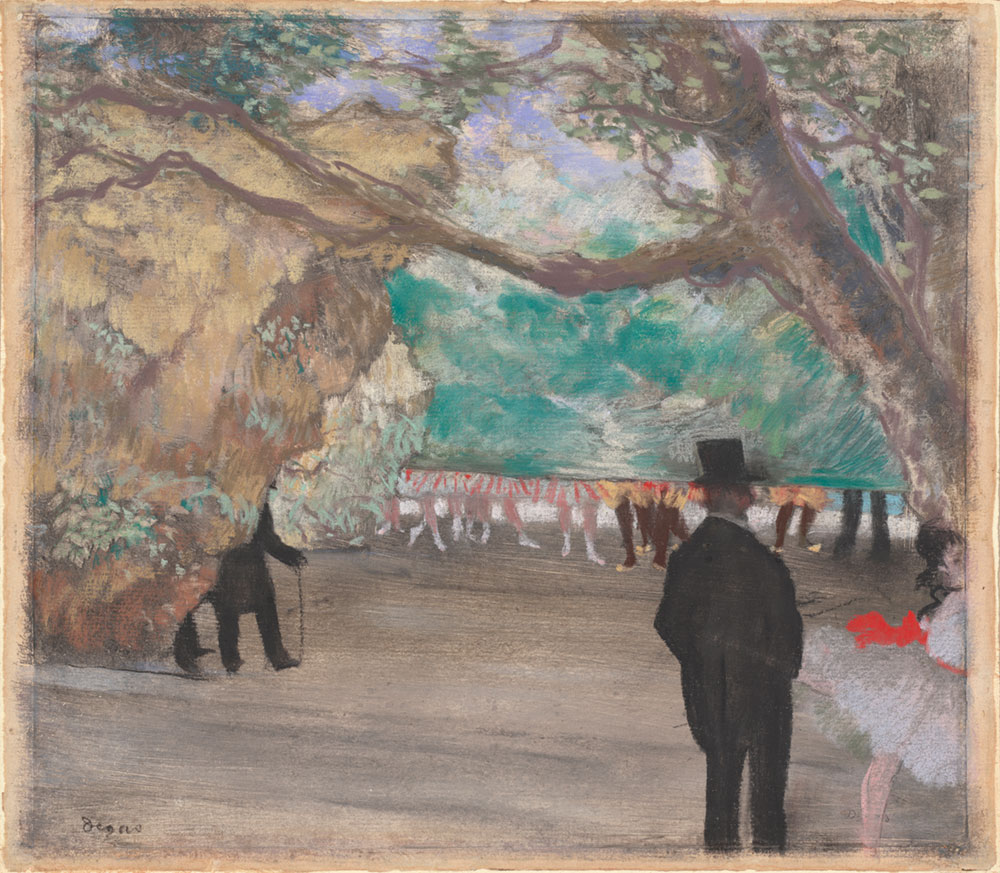 But the stories were also of gender. John Richardson, that cheeky art historian, was particularly tough on the performers' looks. "Photographs," he once wrote, "confirm that Degas was not exaggerating when he revealed his dancers to have been a depressingly dog-faced bunch. No wonder he preferred to show us a maître de ballet teaching a class or conducting a rehearsal rather than a ballerina strutting her stuff." Degas likewise said harsh things of women. When he learned a female friend wouldn't be attending a dinner party he was throwing because she was "suffering," Degas wondered aloud, "How does one ever know? Women invented the word 'suffering.'" About his supposed friend Berthe Morisot, he declared, "She made paintings as she would hats." Was Degas a misogynist? In front of the curtain, in the way he spoke about women, he was, but behind the curtain, in the way he painted them, perhaps not.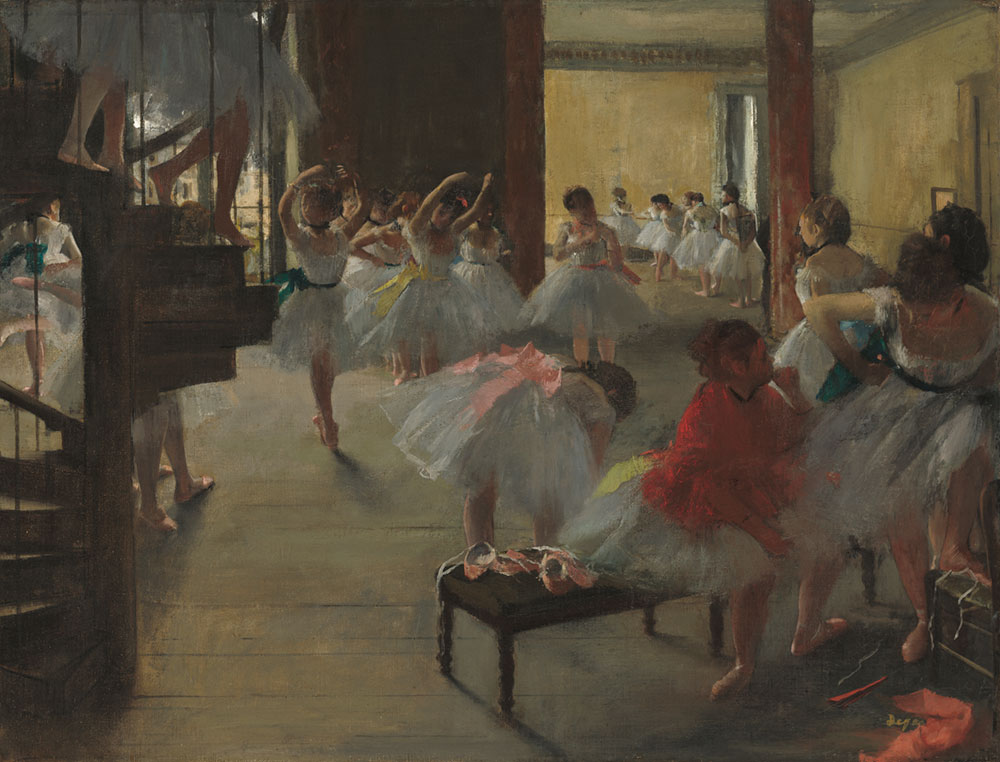 Certain female scholars like Carol Armstrong and Norma Broude have concluded that Degas's depictions of women are generally disinterested in what a male viewer might think. Others, though, like Hollis Clayson and Anthea Callen see him as just the prototypical man, maintaining the male gaze on his female subjects. So, too, the critic J. K. Huysmans didn't buy the idea of Degas's protofeminism. Degas, Huysmans wrote, wanted to "humiliate" and "debase" the dancers by painting them. He "brought an attentive cruelty and a patient hatred to bear upon his studies of nudes," depicting them in pain, as they stood tall on their delicate toes, washing away their innocence for the supposed banality of the stage, for the supposed chance at a top-hatted man.
Read the rest of this essay at The Paris Review.
Feature image:  EDGAR DEGAS. RÉPÉTITION D'UN BALLET SUR LA SCÈNE, 1874. © RMN-GRAND PALAIS (MUSÉE D'ORSAY) / HERVÉ LEWANDOWSKI